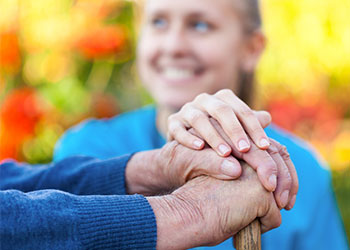 More than 90% of all cases of elder abuse go unreported to authorities, and that won't stand.
By taking the pledge today, you are personally committing yourself to do everything you can to prevent and report elder abuse and exploitation in your sphere of influence, be that in your workplace or in your circle of family and friends.
One instance of elder abuse is one too many. If you or someone you know sees or suspects an instance of elder abuse, neglect or exploitation – it must be reported. We are not asking for money or even much of your time, but we are challenging you to help us reduce or eradicate elder abuse in our community.
Your commitment is made real with:
a promise of trust
an assurance to educate others about elder abuse
an assertion to know when and how to report suspected elder abuse
When you take the pledge, it doesn't mean that we can endorse, enforce or monitor you in any way; but it does mean that you have made a promise that can have extraordinary benefits.
The Pledge
You can make your pledge below; read it, think about it; make the promise; fill it out; click submit. It's easy to fill out, but it calls for a strong personal commitment moving forward.
Once you take the pledge, your name will be added to our pledge list.
If you prefer not to have your name appear on our pledge list, you can download the pledge here, fill out a paper copy and mail it to:
Area Agency on Aging, Region One
Attn: MEAPA "I WILL" Pledge
1366 E. Thomas Road – Suite 108
Phoenix, AZ 85014
---
Online Pledge Form
The Pledge
I WILL DO EVERYTHING I CAN TO PREVENT AND REPORT ELDER ABUSE AND EXPLOITATION.
I WILL never knowingly violate the trust of the elders with whom I come in contact.
I WILL ensure that I know how to recognize elder abuse and exploitation and how to report it.
I WILL strive to educate my family, friends and associates to know when, where and how to report suspected elder abuse and exploitation.